Did you know that according to Cisco's Global Cloud Index, by 2021, 75% of cloud workflows will be delivered as Software as a Service (SaaS)?
This clearly indicates the growing popularity of the SaaS business model and this has created a lot of competition in the industry. It is difficult for SaaS companies to differentiate their services from competitors and stand out in the industry. This is where SaaS marketing strategies can help you.
So, what's the catch?
However, SaaS marketing is more difficult than product marketing because there is no tangible product that you can show. It is more difficult to convince someone to integrate your software into their daily processes than to ask them to simply buy a pair of shoes. This is why you need proven SaaS marketing strategies to convince consumers and get more conversions.
=====X=====
Disclosure: Please note that a few of the links in this article are actually affiliate links. This means that if you click on them, I will get a commission, without any extra cost to you. So, feel free to check these out as I only recommend products or services that I personally tested and highly recommend. For more information, please read my affiliate disclosure in my privacy policy.
=====X=====
12 Proven SAAS Marketing Strategies to Improve Conversions
In this post, I'll discuss some of the best SaaS marketing strategies to successfully market your SaaS service to your target audience.
#1. Run a PPC Campaign
While content marketing and SEO are more cost-effective ways of generating leads, a PPC campaign is a paid marketing tactic. If you don't get enough organic search traffic, then this is a good strategy to generate more leads for your website.
The key here is to test different variations of ad copy and analyze what works best for your brand. Use relevant industry keywords in your ads so they are displayed for all relevant search engine queries.
But, how can you find these keywords?
SEMrush can be used to find relevant keywords for your PPC campaigns too. This not only helps you conduct keyword research but also allows you to track your traffic from PPC campaigns. As a result, you'll be better-placed to optimize your ad performance too.
Also, make sure that your ads clearly convey your value proposition and attract a relevant target audience.
PPC campaigns, although costly, are still preferred by a lot of marketers because they are scalable and you can increase or decrease your spend as required.
#2. Use Content Marketing to Generate Qualified Leads
Content marketing is one of the best SaaS marketing strategies for lead generation. Posting high-quality content on your website that is relevant to your target audience is an effective way to get more website visitors.
But, there's a catch.
Finding and creating unique content regularly can be a big challenge. For this, you should consider using tools like HubSpot.
This tool helps you discover the best performing content on the internet so that you can seamlessly create relevant content and get traction online. It also enables you to find influencers from your niche so that you can reach out to them for partnerships.
By optimizing your content with the right keywords and by writing on relevant industry topics, you can ensure that you attract the right audience.
However, text content isn't all that matters. You also need to get your visual content right. Your landing pages can make or break your lead generation efforts, so you must try to design them such that they can push people to give their information to you.
For this, I recommend using Unbounce. Its drag-and-drop landing page builder makes it easy for you to create high-converting landing pages.
Due to the effectiveness of content marketing, many SaaS companies have begun to create their own blogs and have started using content as a key part of their SaaS marketing strategies. Running a blog can not only help you get established as an industry thought leader but can also help generate qualified leads.
Moz is an example of one such SaaS provider that runs their own blog.
Image Source: Moz
#3. Use SEO to Generate More Leads
Search engine optimization is another of the best SaaS marketing strategies for lead generation. SEO works hand-in-hand with content marketing and is aimed at bringing more website visitors and making your website visible to the relevant target audience.
Using on-page SEO techniques, you can improve your website's search rankings and ensure that it is visible to consumers making a search query related to your business. You can also use SEO to build quality backlinks to your website and drive referral traffic.
However, there are numerous things that you need to keep track of when you want to improve your SEO. That's why, it's helpful to have a tool to assist you.
I recommend using SEMrush for all your SEO requirements. It helps you find keywords, track rankings, build backlinks, and even has an on-page SEO checker. The tool also crawls your website and detects errors so that you can rectify them as quickly as possible.
What's more?
SEMrush also helps you track your competitors so that you can see where you stand in comparison to them. Based on those insights, you can modify your strategy and improve your SEO.
#4. Clearly Display the Price
Clearly disclosing the price is one of the most important aspects of successful SaaS marketing strategies. Build the pricing page in such a way that potential customers can quickly decide whether or not they can afford the price.
Take the SaaS provider Vimeo, for example. As seen in the image below, they have clearly mentioned the various pricing plans to help prospects make an informed decision.
Image Source: Vimeo
#5. Use Free Trials to Lure Customers
Using free trials to incentivize customers to sign-up and start using your product is one of the most effective SaaS marketing strategies for customer acquisition. If you want people to use your service and realize the benefits that you can offer, then this is a good way to get them to take that initial step.
What's more, you ask?
Once people start using your product, it is much easier for you to convince them to continue with a paid plan. The key is to have an effective strategy that gets users to make a purchase later.
In the example below,  you can see how Pipedrive offers a free trial to convert site visitors into actual users of their service.
However, if using this SaaS marketing strategy, ensure that you offer a free trial for a long enough time that users understand the value derived from your product.
Image Source: Pipedrive
#6. Offer Fewer Choices
Too many different choices can confuse potential customers, which may result in them abandoning a purchase. Keep your plans limited to 2-3 different variants to avoid confusing your prospects.
Also, make sure that you clearly show the features offered in different plans and their respective prices, to help people make the best decision suited to their needs.
For example, look at the pricing page of Unbounce where they have clearly displayed the pricing and features of their plans. They have kept the number of options limited to three.
Image Source: Unbounce
#7. Make Sign-Ups Easy
When you want more people to try your SaaS product, you need to remove as many hurdles to the sign-up process as possible. Remember that asking for credit card information in a free trial sign-up could chase away potential customers.
A case study by Content Verve found that a simplified three-step form was able to increase conversions by 30%. In the old three-step form depicted below, users had to enter quite a lot of information.
Image Source: contentverve.com
However, the new form below requires users to enter just over 10 fields to complete the sign-up process. Hassle-free sign-ups are an important element of successful SaaS marketing strategies.
Image Source: contentverve.com
#8. Improve Customer Experience
Of all of the SaaS marketing strategies advocated by experts, this is probably the most essential. A great way to provide a better customer experience is by making your service as personalized as possible. For instance, send them a personalized welcome email once they complete the sign-up process. You could also send out emails when you notice that active customers are slipping.
What else can you do?
You can also provide a live chat option on your website to solve customer queries when they are interacting with your website. This can help them navigate the site better and find answers to any queries they might have.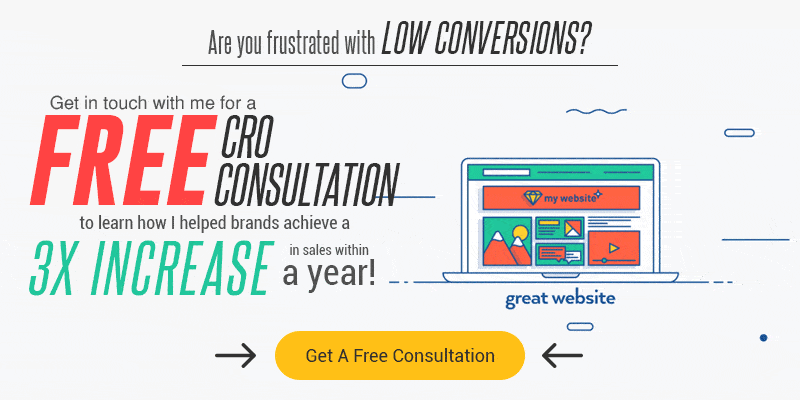 #9. Offer Attractive Deals
One of the tried and tested SaaS marketing strategies is to create good deals for customers to incentivize them to choose a longer plan.
A lot of SaaS companies use this strategy and provide discounts on longer-term plans. However, the key is to highlight that and clearly show the cost-savings that customers can realize if they select a better deal.
Simple, isn't it?
Let's take a look at the pricing packages of Ahrefs, for example.
Image Source: Ahrefs
They not only show a clear comparison in the annual prices of each plan but also highlight the cost-savings for each. Also, they mention that by selecting an annual plan, users can get 2 months worth of subscription free, which they won't get with a monthly billing plan.
#10. Get Featured on SaaS Review Sites to Get More Exposure
A lot of people look at product ratings and reviews before making a purchase decision. Especially in the case of software, since there is no tangible product, people read reviews and check online comparisons with similar products before they make a decision.
In order to get more industry exposure for your product, you should try to get featured on review sites like Capterra and G2 Crowd. You can reach out to these website's teams and send your product details and value proposition.
Below is an example of the kind of product comparisons that these websites provide.
Image Source: Capterra
#11. Reward Customers for Referrals
Referral marketing is one of the most effective SaaS marketing strategies when it comes to lead generation. According to a recent survey of B2B marketers, over 80% cited referrals as a key source for lead generation.
But for this strategy to work, you need to provide your customers with incentives to refer you and be referral-worthy. You can run a loyalty program that rewards referrals or provide some other incentive for customers to refer your product to others.
For instance, Dropbox offers 16 GB extra storage for each friend that you refer.
Image Source: Dropbox
#12. Have Clear Action-Oriented CTAs
What do you want your audience to do? Do you want them to sign up for a free trial? Or do you want them to buy now? Whatever it may be, make sure that they know the next action they should take by adding CTAs throughout your website.
Check out Salesforce's example below, where they have added two CTAs. One for a demo and another for a free trial. Both guide prospects towards the next step.
Image Source: Salesforce
Experiment with different call-to-action buttons in terms of sizes, colors, fonts, and wordings. Run an A/B or split test to see which CTA gets the most conversions.
Ready to Rock Your SaaS Marketing?
Leverage these effective SaaS marketing strategies to improve lead generation and customer acquisition for your business.
Do you have any other SaaS marketing strategies you'd like to share? Share them with us in the comments below.
=====X=====
Disclosure: Please note that a few of the links in this article are actually affiliate links. This means that if you click on them, I will get a commission, without any extra cost to you. So, feel free to check these out as I only recommend products or services that I personally tested and highly recommend. For more information, please read my affiliate disclosure in my privacy policy.