The entry of chatbots has started changing the customer service landscape. They can respond quickly, and using them, you can be available for your customers round-the-clock. This is why nearly 71% of people want to use messaging apps for customer support, as they can get quick solutions for their problems.
What's more, you ask?
Nearly 65% of millennials and Gen Xers prefer messaging a brand rather than calling customer service. This is why it's essential for you to have chatbots for websites, especially when you run an ecommerce business.
With advances in natural language processing algorithms, chatbots are more powerful than ever and can increase customer satisfaction. To help you improve your customer service, here are some of the best chatbots for websites that you can use.
Pro Tip: Try incorporating AI-powered chatbots to make the conversations more personalized.
Best Chatbots for Websites
You can use chatbots on websites, Facebook Messenger, apps, and more. Here are the best ones for your website.
=====X=====
Disclosure: Please note that a few of the links in this article are actually affiliate links. If you click on them, I will earn a commission, without any extra cost to you. Please know that I have only selected the best chatbots for websites for you, which I personally tested and highly recommend. For more information, please read my affiliate disclosure in my privacy policy.
=====X=====
Smith.ai offers a wide variety of services. It not only has a chatbot but also has other services like virtual agents and live chat agents.
Key Features:
Automatically capture, screen, and convert leads on your website
AI-powered chatbot
Custom colors, branding, and greetings
Pros:
Offers much more than just a chatbot
Chatbot is available for free
Works on desktops and mobiles
Cons:
Limited number of questions allowed in the free version
Pricing:
Free version available
Starter: $140/month
Basic: $300/month
Pro: $600/month
Image via Smith.ai
Pro Tip: Use a combination of the AI chatbot and live chat agents to get the most out of this tool.
Collect.chat makes it easy for you to build and implement a chatbot for your business. Using it, you can improve your customer satisfaction, get better conversions, and even improve the customer experience.
Key Features:
Can help with lead generation
Helps with setting up meetings
Has a drag-and-drop chatbot builder
Pros:
Easy to build the chatbot from scratch
Multiple templates for building the chatbot
Free version available
Cons:
Unable to add a human photo for the chat icon
Pricing
Collect.chat lets you create a free account, and you can use their chatbot for up to 50 responses per month. The paid plans offered by them are:
Lite: $24/month
Standard: $49/month
Plus: $99/month
Image via Collect.chat
Pro Tip: Start building your chatbot by using the templates. This makes it easy to get set up quickly.
Acobot is an easy-to-use chatbot for your website, especially if you own an ecommerce website. This AI-powered chatbot can help you drive sales without much effort.
Key Features:
Uses discounts and coupons to capture leads
Adept at cross-selling and upselling
Reduces cart abandonment
Works completely autonomously
Pros:
Studies the store and gets started by itself
Improves over time with more interactions
Cons:
Pricing:
15-day free trial available.
Charges 0.6% of total sales driven by it.
No monthly or recurring charges.
15-day money back guarantee.
Image via Acobot
Pro Tip: If you want to set up a chatbot without much hassle, Acobot should be your go-to chatbot.
Botsify is changing the customer service landscape through their live chatbots. By using them, you can increase your customer satisfaction and retention.
You can automate your customer service operations and reduce the burden on your customer support staff too. It's possible to create a free account and chatbot for 14 days as well.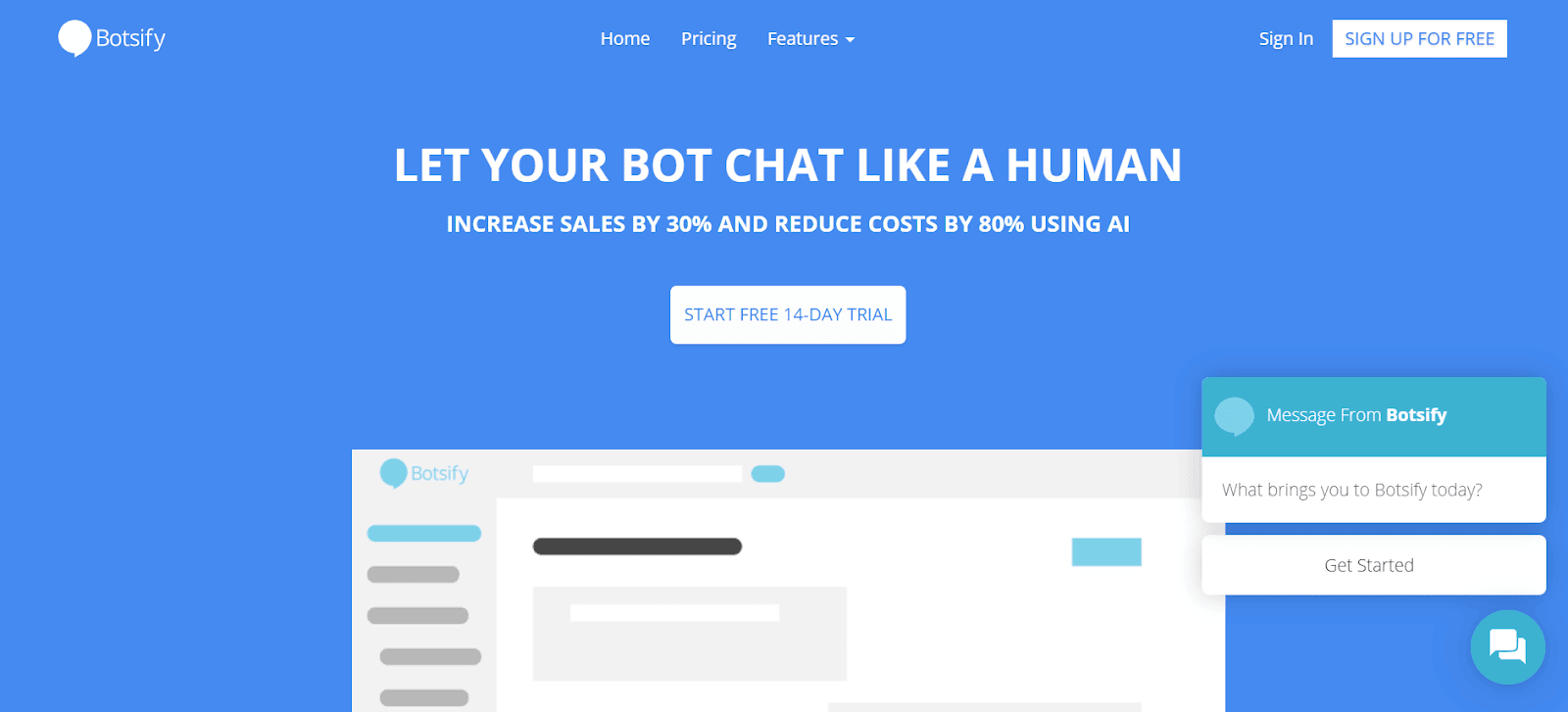 Image via Botsify
Pricing
Botsify offers two major plans:
Self-Serviced: $50 per month
Fully-Managed: $300 per month
Flow XO lets you create a chatbot without the need for any coding skills. You can use this chatbot on a variety of websites and apps like Facebook Messenger.
Automate your customer service and improve customer satisfaction using their live chat features as well. Their natural language processing AI algorithm helps you make the most out of the chatbot too.
Image via Flow XO
Pricing
It's one of the best chatbots for small businesses, as you can use it for free as well. The paid plans offered by include:
Standard Plan: $19/month
Standard Plan + 5 bots: $29/month
Standard Plan + 25,000 interactions: $44/month
Through Virtual Spirits, you can build a chatbot for your website within minutes. They've got over 100 chatbot templates that you can modify and start improving your customer experience.
It's one of the best chatbots because it's got features for both beginners and experts alike. Be it WordPress, Joomla, or Drupal, you can build chatbots for them all through this platform.
Image via Virtual Spirits
Pricing
Virtual Spirits offers a free account for 30 days. After that, you can choose from one of their many paid plans.
Small: $9/month
Professional: $29/month
Business: $99/month
i-Business: $239/month
Streebo provides a great platform to build chatbots to engage your customers through intelligent conversations. You needn't know any coding to develop a chatbot using Streebo.
Additionally, you can seamlessly implement it on your website and 3rd party apps like Facebook Messenger. It's also got natural language processing capabilities from IBM Watson, Wit.ai, and others.
Image via Streebo
Pricing
You can get in touch with them for a customized quote for chatbots.
ChatBot makes it simple for non-coders to create a chatbot for their websites with ease. The natural language processing capabilities make it a great tool to improve your customer satisfaction.
What's more, you ask?
You can create workflows in minutes to help your customers with their questions 24/7 without the need to manually intervene at any point. You can integrate the chatbot with LiveChat, Facebook Messenger, Slack, and more.
Image via ChatBot
Pricing
You can create a free account for 14 days, but beyond that, you'll have to opt for one of the paid packages, which start at $50 per month.
Instabot is a smart chatbot that is not just easy to build but can also be implemented quickly. It can help you reduce your costs and increase conversions by improving customer satisfaction.
Through it, you can leverage AI and natural language processing to help it gain knowledge quickly, as well.
Image via Instabot
Pricing
Instabot doesn't offer any free accounts, and you need to purchase one of their paid plans to use the chatbot on your website. They offer the following packages:
Base: $49/month
Standard: $149/month
Advanced: $349/month
Enterprise: Customized pricing
You can have one-on-one conversations with your customers 24/7 and answer their questions without the need to intervene manually through Gobot.
But that's not all.
It can help you automatically qualify leads and connect them with your sales representatives. While it does help with winning new customers, you can also improve your customer satisfaction with it.
Image via Gobot
Pricing
The best part about Gobot is that it's currently free to use. While they do intend to launch paid plans in the future, you can expect a free plan too.
BotStar is a great chatbot for websites and Facebook Messenger that can be built without any coding. It can help you improve your customer experience and also takes the load off your customer support staff.
What's more?
You can create the chatbot using their visual editor and can implement it on over 1500 apps. It has a centralized inbox where you can track everything together too.
Image via BotStar
Pricing
For up to 100 conversations per month, BotStar is free to use, and all you need to do is create your free account to start using it. The paid packages offered by them are:
Essential: $10/month
Grow: $29/month
Pro: $99/month
ArtiBot can make it simple for your business to start generating leads through chatting. It can not only help you generate leads but can also accept payments and book appointments on your behalf.
Choose from hundreds of templates and start customizing them to fit your requirements. It remains online 24/7, and this can help you improve your customer service by answering questions as well.
Even if you don't have a website, you can link to an ArtiBot.ai hosted page and start generating leads.
Image via ArtiBot
Pricing
The best part about ArtiBot is that it's completely free to use, and the templates offered by them are free too. However, you can opt for their Pro plan that gives you a few extra features for a premium of $19/month.
FAQs
Q1. What is a website chatbot?
A. Website chatbots are those chatbots that are active on your website and not on any other third-party platforms. Your website visitors can directly interact with the chatbot from your website. Typically, these chatbots are used for customer service.
Q2. What websites have chatbots?
A. Chatbots can be implemented by any and every website out there. They can help you with customer service, lead generation, product promotion, and more.
Some of the websites that use chatbots are:
Peloton
Domino's Pizza
Buddy Nutrition
Lyft
Q3. How to make a chatbot for a website?
A. To make a chatbot for your website, you should first choose a chatbot platform such as Smith.ai, Acobot, Botsify, etc. Then, set up the different questions and answers that the chatbot will ask or answer. You should also create flows to structure the entire conversation. Once that's done, you can add the chatbot to your website.
Q4. Can you add a chatbot to a website?
A. Yes, it's possible to add chatbots to websites with ease. All you have to do is create a chatbot using a chatbot tool and then add the chatbot code to your website.
Q5. How to make voice chatbot for a website?
A. To create a voice chatbot for a website, you should leverage a voice chatbot platform like Dialogflow or IBM Watson. Unlike a normal chatbot, the process for a voice chatbot will require that you have some level of technical knowledge as you might have to write code for it.
Q6. What's the most user-friendly platform to create chatbots for a website?
A. The most user-friendly platform to create chatbots for your website is Flow XO. This platform removes the need to have any technical skills and you can seamlessly create flows for your chatbot using its flow builder. The best part about this platform is that it offers both free and paid versions.
Q7. Which is the best free chatbot for a new website?
A. Smith.ai has one of the best chatbots out there. Its AI-powered chatbot lets you find, screen, and nurture leads with ease. And the best part about it is that the chatbot is available for free on both desktops and mobiles.
Q8. Who are the top chatbot providers?
A. The top chatbot providers are:
Smith.ai
Collect.chat
Acobot
Botsify
Flow XO
Virtual Spirits
Streebo
ChatBot
Instabot
Gobot
BotStar
Q9. Why is a chatbot an essential tool for your website?
A. Chatbots are essential tools for websites because they can help improve your customer service, and consequently, experience. They can reply to the questions posed by your customers instantly and are available 24/7. This means that your customers will never have to wait for answers from your brand.
Q10. What is the most intelligent chatbot?
A. The most intelligent chatbots are the AI-powered chatbots. These chatbots are armed with the power of natural language processing (NLP) and machine learning (ML). This helps them understand user queries and answer them appropriately.
Ready to Create a Chatbot for Your Website?
Chatbots can not only help improve your customer satisfaction but also improve your lead generation and conversion rates. They can boost your customer experience by responding quickly to your customer's questions 24/7.
It's also possible to reduce your expenses by using them as you'll need a smaller customer service staff.
Through advancements in AI and natural language processing, chatbots have become even more complex, making them even more powerful.
You can also integrate chatbots on websites, Facebook Messenger, and mobile apps to improve your customer service across multiple channels.
Do you know any other popular chatbots for websites? Let me know in the comments.
=====X=====
Disclosure: Please note that a few of the links in this article are actually affiliate links. If you click on them, I will earn a commission, without any extra cost to you. Please know that I have only selected the best chatbots for websites for you, which I personally tested and highly recommend. For more information, please read my affiliate disclosure in my privacy policy.