Are you looking to drive more traffic to your website or social media channels? Instagram Stories can be a great way to do that.
If you know how to add a link to your Instagram Story, you can direct people from your Stories to any page on the web – a recently published blog post, a product page, an event you're promoting, or even your YouTube channel.
In this article, I'll show you how easy it is to add a link to an Instagram Story and share tips on how you can compel viewers to click on it.
So, read on to learn how to drive more engagement today, using your Instagram Story links
Disclosure: This content may contain a few affiliate links, which means if you click on them, I will get a commission (without any extra cost to you).
What Are Instagram Stories Link Stickers?
Instagram Stories Link Stickers enable users to add a clickable link to their Story. When viewers click on that link, IG can redirect them to an external link to a website, product page, or landing page.
Using these customizable Link Stickers, businesses can boost sales or drive traffic to their website. Once the Story is live with a Link Sticker, you can track how many users tapped on your link via Instagram analytics.
What Happened to the Instagram Swipe Up Link Feature?
Earlier, the Swipe-Up Link feature on Instagram offered similar functionality. Users could swipe up on an IG Story to access a link without leaving the app. This feature was only available for use by IG accounts that had over 10K followers.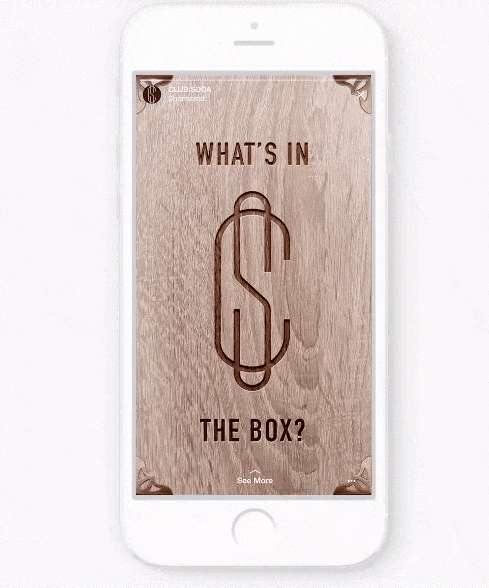 However, Instagram retired the swipe up feature in August 2021.
While Instagram didn't go into the details, they explained that they took the decision to "streamline the Stories creation experience." They also suggested that they wanted to provide more "creative control" to users with the Instagram Link Stickers.
The new Link Sticker functionality comes with some added benefits. Here's why adding links to IG Stories is more convenient than using the Swipe Up feature:
Accessible to All: The Instagram Stories Link Stickers allow users to link to products, services, and other content without having the 10K followers requirement that is necessary for Swipe Up.
This means that creators and small businesses with smaller followings can still use the link feature just like their larger counterparts.
Customization Ability: With the Instagram Stories Link Sticker, you have the ability to customize how your link appears.
You can add any text up to 46 characters to your Link Sticker. IG also provides four color options so that the Sticker can match the overall aesthetic of your Story. Plus, you can change the size of the Link Sticker according to your requirements.
Highlight Brand Partnerships: If you are collaborating with other brands or creators, it's easy to promote their websites or pages via the Link Sticker. If you are running an affiliate campaign, you can share affiliate codes or links using Link Stickers in IG Stories.
Better Scope of Engagement: When you add links to your Instagram Story, viewers can like or comment on your Story as well. They can even send responses or reactions to these Stories, leading to a more engaging experience. Instagram did not offer this functionality with the Swipe Up feature.
Ability to Add Other Stickers: You can get more creative with your Instagram Stories as the platform allows you to use multiple IG Stories Stickers simultaneously. This means that along with the Link Sticker, you can also use the Poll Sticker, Question Sticker, and others to create more engaging content.
In a nutshell, the Link Sticker is a simplified way to link to external content from Instagram Stories. Compared to the Swipe Up feature, the Link Sticker offers an easier and more intuitive way of adding links on Instagram.
How To Add a Link to Your Instagram Story via the Link Sticker
Adding links to Instagram Stories is not difficult, but it can be a bit confusing for those who are unfamiliar with the feature. Here are the steps you can follow to add links to Instagram using the Link Sticker:
Step 1: Log in to your account and tap on the "+" icon on the top right corner, and click on the "Story" tab. Alternatively, you can also swipe left and click on the "Story" tab.
Step 2: Create a Story and click on the Stickers icon from the top row.
Step 3: You will see a selection of interactive Sticker options. Tap on the "Link" Sticker.
Step 4: Enter the URL that you want to redirect users to.
Step 5: If you don't want the URL to appear in your Story, customize the Sticker text. You can add any text up to 48 characters. Click on "Done" once you have entered the text you'd like to show in your Story.
Step 6: You can resize the Link Sticker by dragging the ends or even change its color by tapping on it. You can even move the Sticker by tapping and then dragging the Sticker to the point where you'd like to place it.
Step 7: Add other Stickers, effects, or music to your Instagram Story, and then post it.
Once your Story goes live, tap on the link to double check if the Link Sticker works fine. That was easy, right? Have fun experimenting with different combinations of text, links, Stickers, and media to craft creative Stories that your followers will enjoy.
Why Can't I Access the Instagram Link Sticker?
If you're having trouble accessing the Link Sticker on Instagram, there are a few things you can try. First, make sure that your device is running the most up-to-date version of the Instagram app. If it's not, update it and then try to access the Link Sticker again.
In case you still can't access the Link Sticker, it could be because of the following reasons:
Your Instagram account is still new. You may need to post some content and refresh the app to get the option.
Your IG account has repeatedly shared content that spreads misinformation and promotes hate speech. If that's the case, your account may be restricted from using the Link Sticker.
Your IG account violates Instagram's Community Guidelines.
To limit the spread of harmful content on the app, Instagram doesn't allow the above-mentioned accounts to access the Link feature. If you think there is no justified reason for you not to have access to the Link feature, you can submit an appeal to the IG team via the Help Center.
How To Customize Your Instagram Link Sticker Design
Although Instagram announced the Link Stickers in June 2021, they rolled out the customization options only in December 2021. Currently, Instagram allows you to customize your CTA and change the color, size, and position of your Link Sticker.
While it is a great feature, the design options for Link Stickers on the app can seem limiting. Whether you are not fond of the available choices or simply want more on-brand Link Stickers, there is a smart hack that can help you out, and I've got you covered.
Here is what you can do to customize your Instagram Link Sticker design:
Post via Instagram
Step 1: Create your Instagram Story, add the link sticker as explained above, and save the Story as a draft.
Step 2: Download any design app.
Step 3: Design a CTA that is on-brand and visually appealing.
Step 4: Export the Sticker design as a PNG file with a transparent background to your phone.
Step 5: Open the saved IG Story draft and add the custom Sticker.
Step 6: Place this custom Sticker on top of the Link Sticker in your Story and publish it.
If you follow these steps, users will only be able to see the custom Sticker on your Story. Even though the IG Link Sticker will stay hidden, its link will be visible.
Here is an example of a custom Link Sticker on Instagram:
When a user taps on the custom Sticker, they will be redirected to the link you've added in the IG Link Sticker. With these steps, you'll have better control over the aesthetics of your Link Sticker on Instagram.
5 Different Ways You Can Use Instagram Link Stickers
Link Stickers add an interactive touch to your Instagram Stories. Not only do they allow you to send people directly to websites, but they can also be used in creative ways to spark conversations.
Here are five different ways you can use Link Stickers on Instagram:
1. Promote Specific Products
Promoting specific products via Link Stickers on Instagram Stories is a great way to drive more sales and increase customer engagement. With Link Stickers, you can add clickable links to Stories, allowing viewers to access product pages directly from your Stories.
For businesses, this can be a great way to increase visibility for specific product lines and drive more qualified traffic to their websites or pages.
The interactive nature of the Link Sticker also increases engagement with the post. By providing viewers with the opportunity to instantly take action on the product being promoted, businesses can ensure that their target audience is both aware of their offering and interested in taking action.
If you have a special discount or offer going on, you can also promote it with the Link Sticker. This encourages people to take advantage of the offer and purchase the product right away before the deadline ends.
2. Get Your Audience To Read Your Blog Posts
Link Stickers in Instagram Stories can help you drive higher quality traffic towards your blog posts. That's because those who click on your Story link are likely to be interested in your content.
Plus, Link Stickers also provide a seamless reading experience to the user. By adding the Link Sticker to your Story, viewers have an easy and direct way to access the full post on your page.
3. Share Affiliate Links
If you are running an affiliate marketing program, you can use the Link Sticker to promote affiliate products on your IG Stories. It's a clever way to showcase what you have on offer and boost your sales via Instagram.
If you have a custom affiliate code, you can even include that in your Story along with the affiliate link to drive more sales. This strategy can also be effective while running giveaways and contests.
4. Get Registrations For Your Events
Using Link Stickers in Instagram Stories is an effective way to collect registrations for an event. All you need to do is create a post featuring the event and add a call-to-action within the post.
When viewers come across your Story, they can quickly and easily register for your event without having to visit your website or access other resources.
Additionally, since visitors can navigate directly to the registration form, they have everything they need right at their fingertips. This makes it easier to convert them into attendees and increases overall signups.
You can also add multiple such Stories with Link Stickers leading up to the event. This gives you the opportunity to keep people engaged and remind them of your event, so they are more likely to take action.
5. Share Important Announcements
Sharing important announcements like those about hiring on Instagram Stories via Link Stickers is an effective way to quickly spread the word.
By including the link in your Story, you can also lead viewers directly to the job application page or website. This helps ensure that everyone has access to the correct information regarding the position and makes it easy for them to apply if they're interested.
Ready to Harness the Power of Instagram Stories Link Stickers?
Now that you know how to add Instagram Link Stickers to your Stories, why not give it a try?
With Link Stickers, you can easily direct followers to your website, blog, or any other content.
After adding the Link Sticker to your Story, customize the title and design to make it more interactive. It's that easy! Go ahead and start adding link stickers to your Instagram Stories now.
Got more questions about how to add links to Instagram Story? Please feel free to mention them in the comments section below.