Did you know that 46% of all Google searches are seeking local information? Furthermore, another study revealed that 69% of users search for local businesses online at least once every month. These statistics are a clear indicator of the importance of local SEO.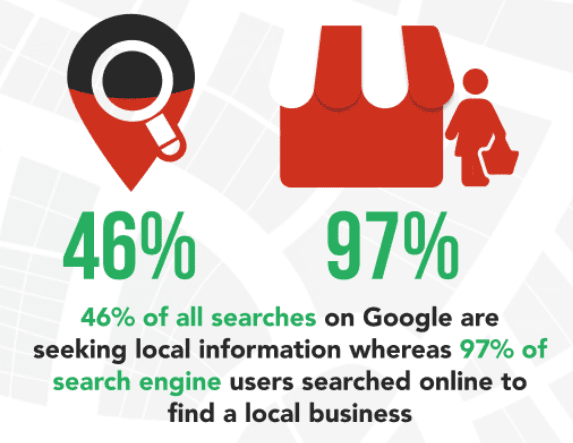 Image via GoGulf
Whether you're a restaurant owner or a plumber, local SEO is crucial for everyone. As a business owner, you need to work on local SEO strategies to promote your business. You could lose out on many potential leads if you're not working on it.
Before we get into the details involved in local SEO strategies, let's first understand what local SEO is.
What is Local SEO?
What would you do if you were in a new city and wanted to find out a movie theater near you? If you're like most people, you'd probably run a quick Google search. For Sacramento, the search results are as shown in the screenshot below.
Image via Google
In these results, you're mostly likely to check out the first few listings. If a business owner can get their listing to the top, it can make a lot of difference to their business.
Along with boosting awareness, a top listing can also increase the likelihood of getting a conversion. In a nutshell, it can be a key factor in growing any business.
If you want to succeed at marketing in the digital age, local SEO strategies should be your focus. They can be an indispensable tool to get more conversions.

What are the Best Local SEO Marketing Strategies and Techniques?
To thrive in local rankings, you'll need to come up with a killer strategy that can help you in the long term. Of course, it requires a lot of planning, perseverance, and time.
To make things easier for you, I've done all of the background research for you. Here are some local SEO strategies that you should work on:
1. Optimize for Medium-Tail Keywords
Until a few years ago, all SEO experts emphasized the need to use long-tail keywords. That was before Google announced they were using a Machine Learning algorithm called Google RankBrain to enhance search results.
If you delve a little deeper into how RankBrain works, you'll notice that it favors medium-tail keywords. When a user searches for "best spas" and "best spas near me," you'll end up getting similar or the exact same results. That's because Google understands that in both scenarios, you're essentially looking for the same thing.
Earlier, Google used to display results after matching the exact keywords you entered. Now, if you want to rank, you need to optimize your content for RankBrain. That means medium-tail keywords should be an important part of your local SEO strategy.
What are medium-tail keywords?
As the name suggests, medium-tail keywords are somewhere in between short-tail keywords and long-tail keywords. They're literally in the middle of the pack. They are more focused than short-tail keywords and they typically get more search volume than the average long-tail keywords.
So, to develop a solid local SEO strategy, you need to optimize your content for medium-tail keywords.
2. Create Your Google My Business Listing
If you own a business, it's almost an unsaid rule that you need to create a Google My Business listing. According to Moz's Local Search Ranking Factors, it was also listed as the top ranking factor for local SEO as well as Google Maps.
Image via Moz
Google is more likely to share your content if it can verify the details of your business. The best way to do it is through a Google My Business listing.
How do you create your Google My Business listing?
First, make sure you add the correct address and contact information for your business. Choose the categories that are relevant for your business and include a few photos when you're listing your business.
All of these details will help you establish credibility. It is also recommended that you use relevant keywords when you're filling out your business description.
3. Get More Local Citations
A Google My Business listing is only the first step to solidify your local SEO strategy. Apart from this, users also check sites like Yelp and FourSquare to discover new businesses. So, it's crucial to maintain your visibility on these sites. That's where local citations come into play.
Image via Yelp
What is a citation listing?
For the uninitiated, local citations refer to the mentions that your business gets on the internet. A local citation may either include your business name, videos, images, geo-coordinates, reviews, or other information related to you business.
First, list a few forums and websites where you need to get listed. Then slowly work towards building up your local citations.
4. Encourage Your Customers to Write Reviews
Do reviews affect your SEO?
According to a survey by Bright Local, 86% of all consumers read online reviews when they're researching businesses. Moreover, 57% of people said they only choose a business if it has a rating of more than 4 stars.
Image via Bright Local
Reviews are a way of getting social proof. And they can be a crucial factor in attracting new leads. So, you should encourage your happy customers to write good reviews for you on social media and in other forums.
If you get negative reviews, don't worry. Respond to them in a professional manner and try to address their concerns offline. Taking criticism gracefully shows that you care for your customers' issues.
5. Create Local Content
Content is a major part of any local SEO strategy. If you want more people in your area to know about you, you need to create content that they are looking for. Identify some pain points that people in your area face.
What is local content marketing?
Local content marketing is often an overlooked approach to boost rankings. It entails developing content that is relevant to your local audience.
For example:
If you have a website in the travel niche, you could suggest things to do and places to eat in a particular neighborhood. Aim to answer questions that users might be searching for. If you provide quality content that people want to read, you'll automatically get traffic.
6. Get Quality Backlinks
How do backlinks help SEO?
If you want to tap into a large audience, you can't only rely on your website's audience. You need to tap into other's audiences as well. That's what link building can help you with.
To build your link profile, you'll need to find high domain authority websites in your niche. Sure, you can get as many backlinks as you want on random websites.
But unless they are of quality, they won't help with your local SEO strategies. Focus on finding local websites that have a good domain authority and allow guest posting.
Reach out to them with ideas for guest posts. Keep in mind that link building is a long process. You'll need to be consistent in your efforts for the results to reflect on your local SEO strategies.
7. Build a Mobile Responsive Website
52.2% of the total website traffic in the world was generated by smartphones in 2018. That makes one thing clear — you can't ignore mobile phone users.
The shift from laptop to mobile phone is no longer subtle. You need to keep up with the changing trends in the market.
The first step is to build a mobile responsive website.
What does a responsive website mean?
It means that the webpage's layout, images, and design work well on mobile or any other device. When you're designing your website, you should keep these two elements as your priorities: convenience and responsiveness.
If your website is not optimized for mobile phones, smartphones users may find it difficult to use your website. They may have to zoom out or zoom in to view certain elements of your web pages.
A mobile responsive website solves this issue as it is accessible from different devices. The size of the screen does not make any difference to the web pages.
Till now, we've talked about it only from the point of view of the user. Now let's take a look at how a mobile responsive design can affect your local SEO strategy.
Google uses mobile-first indexing. That essentially means that it picks up a website's mobile web page for the purposes of indexing and ranking. So, it is one of the most important factors for your local SEO strategy.
According to Google, here is what you can do for your website:
Your desktop and mobile site should contain the same content in both indexable and crawlable formats. This applies to text, photos, and videos.
You should use structured data on your mobile and desktop sites.
Write the same titles and meta descriptions for both versions.
8. Research Local Keywords
The keywords that you choose to rank for should be relevant to your local audience. You need to pick the keywords that have a high search volume in your location. You can use the Google Keyword Planner to find popular keywords in your region and create a list based on what you find.
Once you know the local keywords that you want to target, it's time to take action. Include these keywords in your meta descriptions, content, as well as URLs.
In addition to this, it's also advisable to mention popular hotspots and landmarks in your copy. For instance, if you run a shop in downtown Seattle, you may want to write something on the lines of "near the Space Needle."
9. Focus on On-Page SEO
What is on-page SEO and why is it important?
On-page SEO refers to the process of optimizing your site's web pages. It's a crucial part of your local SEO strategy. The first step to improving your on-page SEO is to make sure that your content is free from any errors.
Focus on publishing content that is high-quality and original. While using keywords is important, it's advisable only to use them in a natural way. Do not stuff your copy with keywords.
To give Google's crawlers a better idea of what's on your webpage, optimizing your content isn't enough. You also need to make sure you're using relevant meta descriptions and title tags. If you use keywords optimally in them, you can solidify your local SEO strategy.
Additionally, make sure that all of the images on your site also contain keywords with alt texts. Do not let your image files have random names. If you don't add appropriate titles, it will affect your SEO.
Page speed is another crucial factor for your overall local SEO strategy. If your page takes too long to load, your site visitors may simply just abandon your website. A longer page loading time also affects your search rankings.
You can use Google PageSpeed Insights to check how long your page takes to load.
10. Schema Markup
Schema markup is another way to enhance your local SEO strategy.
What do we mean by schema markup?
For the uninitiated, schema markup is a technology that allows search engines to find out and show information that is related to your business.
This could include anything from your address to your prices and reviews. It's a good idea to showcase this information on your website. Displaying these details can help you improve your click-through-rate. This, in turn, can give a boost to your local SEO strategy.
To add schema markup, you can use Google's Structured Data Markup Helper. Additionally, you can check how your web page will be seen after you add the schema markup using the Structured Data Testing Tool.
Ready to Beat Your Competitors?
Regardless of whether you run a big company or are a small business owner, you should pay attention to local SEO. If you want to increase your visibility and get more leads, local SEO is the best way to do it. I hope the local SEO strategies mentioned above help you boost your local search rankings.
Which other local SEO strategies do you think are effective for boosting visibility? Please share your insights in the comments section below.